Welcome to the St. Nicholas Greek Orthodox Church Website
2022 St. Nicholas RAFFLE TICKETS! Buy HERE!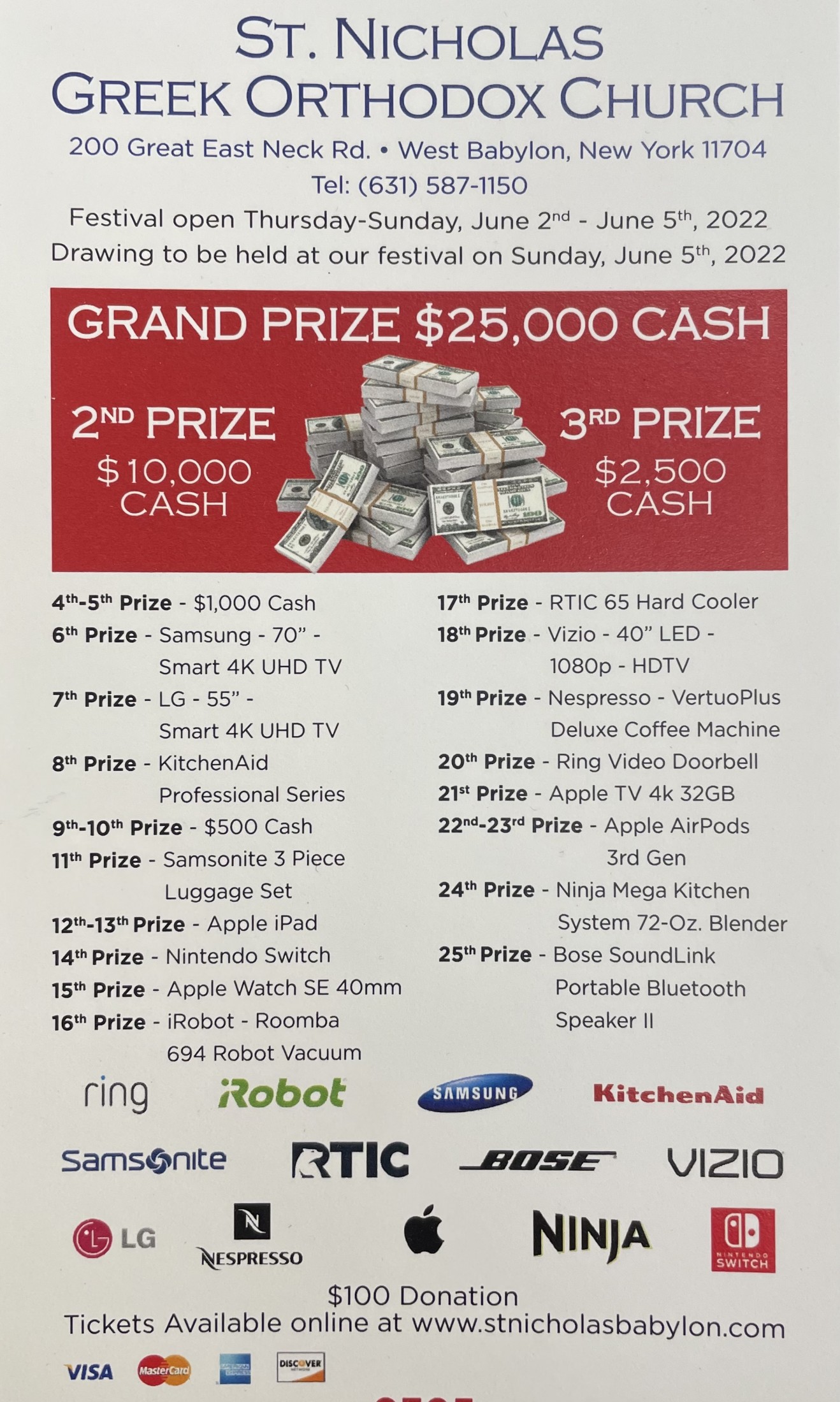 WEEKLY EVENTS
SUNDAY, APRIL 17TH 2022
Κυριακή των Βαϊων
Palm Sunday
8:00am Orthros, 9:30am Divine Liturgy
Palm Sunday Bakaliaro Luncheon
After Divine Liturgy**Reservations are a must
Bridegroom Nymphios Service 7:00pm
MONDAY, APRIL 18TH 2022
2nd Bridegroom Nymphios Service 7:00pm
TUESDAY, APRIL 19TH 2022
Trisagion Services, Pinelawn Cemetery 9:00am – 10:00am
Trisagion Services, N. Babylon Cemetery 10:30am – 11:00am
3rd Nymphios Bridegroom Service (Hymn of Kassiani) 7:00 pm
WEDNESDAY, APRIL 20TH 2022
Divine Liturgy of Pre-Sanctified Gifts 8:00am
Sacrament of Holy Unction 7:00pm
THURSDAY, APRIL 21ST 2022
Divine Liturgy of St. Basil 7:00am
The Holy Passion of Christ (12 Gospels) 6:00pm
FRIDAY, APRIL 22ND 2022
Royal Hours 9:00am
Holy Friday Retreat 12:00 noon
Removal of Christ from the Cross (Apokathilosis) 3:00pm
Lamentations Service & Epitaphio Procession 6:30pm
SATURDAY, APRIL 23RD 2022
Divine Liturgy of St. Basil (Crashing the Gates of Hell) 9:00am
Resurrection Service 11:00pm
SUNDAY, APRIL 24TH 2022
ΤΟ ΑΓΙΟΝ ΠΑΣΧΑ
GREAT and HOLY PASCHA
ANASTASIS Divine Liturgy 12:00 midnight – 1:30 am
Agape Vespers (Reading of the Gospel in various Languages) 11:00am
+
Please see the new March/April edition of the ANCHOR here:
https://online.pubhtml5.com/lrqm/vtcz/
+
Visit us online:
and on Facebook:
Facebook.com/StNicholasBabylon
Please remember to complete and send us your new Stewardship Commitment form!!!
---
Online Chapel
Please see the November & December 2021 Edition of THE ANCHOR. Click here!